New from Qcards! – The Values Cards
The Values Cards is the latest high quality publication from Qcards.
This is a set of 56 cards that represent the values most widely held by individuals, teams and organisations. They can be used in a variety of settings or contexts to help people get clear on what really matters to them. When individuals, couples or team members uncover what their most important values are, they can more reliably plan and make changes in their lives, relationships or workplaces to better reflect what they believe is good, right and important. Aligning our lives with our values helps us make important decisions and feel and act grounded and focused. It inevitably leads to more happiness, achievement and contentment. More Details…
The Values Cards are now available for $29.95 per set. Each set of cards comes with a special passkey to the Values Cards Downloads which include full instructions, activity ideas, work sheets and printable sets of cards.
For detailed information on how The Values Cards can help you, your clients, classroom, workplace or team: Click Here to read the instruction booklet.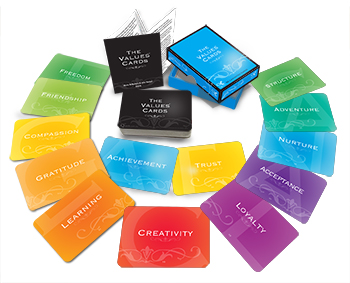 $29.95 Add to cart
Use above button for
Australian, NZ, USA
purchasers only.
UK, IRE, EU
purchasers go to
amazon.co.uk
If you have already purchased the Values Cards Downloads and you now wish to purchase The Values Cards, we will refund your full Downloads cost as a discount on the Purchase price. Please contact Qcards with your downloads order number. Conditions apply – visit the
Downloads page
for terms.
The Bear Cards®
Being able to recognise, accept and express feelings in a healthy way is a valuable life skill and is crucial to emotional development and well-being. However, talking about feelings is not always easy.
The Bear Cards are a set of feeling cards with games and activities that provide a safe and fun way to explore and engage in conversations about feelings. The Bear Cards are used around the world by thousands of therapists, teachers and parents.
Where to buy The Bear Cards:
Australia: Right Here
New Zealand: Go to Compass Seminars
UK & EU: Go to Amazon.co.uk
USA, Canada & others: Go to Amazon.com or Go to ChildTherapyToys.com