The Bear Cards: Feelings
ISBN: 9780980517521
This edition published October 1, 2012
The Bear Cards®: Feelings is a beautiful, high quality set of feeling cards featuring 48 bear characters using both facial expression and body language to show a wide range of emotions, without words. Thousands of therapists, teachers and child welfare workers across the world have used The Bear Cards in assisting children to recognise, identify and talk about feelings.
"Great for working with kids!! I didn't think that these cards would be so amazing, but they are. Kids love them and they really help them to explore their feelings. I am a child therapist and I have used these cards with every child since they arrived. Great for any therapists working with children or adults." – Jojo, Child Therapist USA
Click Here to see the booklet which accompanies each set of The Bear Cards ®.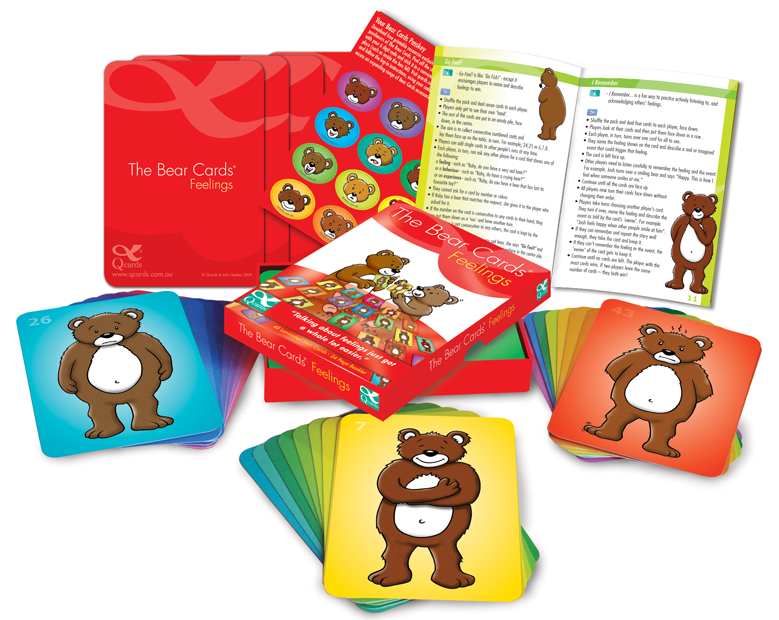 Each shrink wrapped set of The Bear Cards ® includes:
48 laminated Bear Cards with rounded corners (card size: 105 x 148 mm)
24 page full colour booklet
Sticker sheet with a Special Passkey for free downloads
Sturdy 2 piece laminated box (box size: 117 x 160 x 26mm)
$35.00Add to cart
Price in $
AUD
including GST. Shipped from Australia and UK
UK
buyers go to
amazon.co.uk
– Shipped from UK
USA
buyers go to
amazon.com
– Shipped from USA
Canada
buyers can go to
cavershambooksellers.com
– Shipped from Toronto