WTF? What's the Feeling? Cards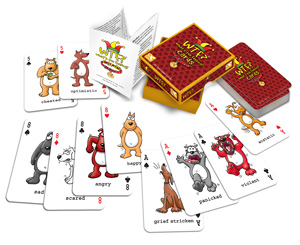 There is nothing more important in life than our emotions. Every decision we ever make is based on how we feel or wish to feel. However, talking about our emotions is not always easy… especially for men.
The WTF? Cards can help you and/or others:
• identify and articulate feelings;
• prompt meaningful discussion;
• enhance understanding, empathy, communication and interpersonal skills;
• focus on and improve individual and group/team behaviours.
Each shrink wrapped set of WTF? Cards includes:
• 56 laminated cards with rounded corners:
= 52 feelings cards + 4 Jokers (card size: 68 x 96 mm)
• 8 page fold-out information sheet with a Special Passkey for free downloads
• Sturdy 2 piece laminated box (box size: 110 x 80 x 25mm)

$32.00Add to cart
Price in
$AUD
(including GST). Shipped from Australia
Canada
buyers can go to
cavershambooksellers.com
– Shipped from Toronto